Posted 17th December:
SUNSPOTS BREAK A SPACE AGE RECORD:
Solar Minimum is becoming very deep indeed. Over the weekend, the sun set a Space Age record for spotlessness. So far in 2019, the sun has been without sunspots for more than 270 days, including the last 33 days in a row. Since the Space Age began, no other year has had this many blank suns.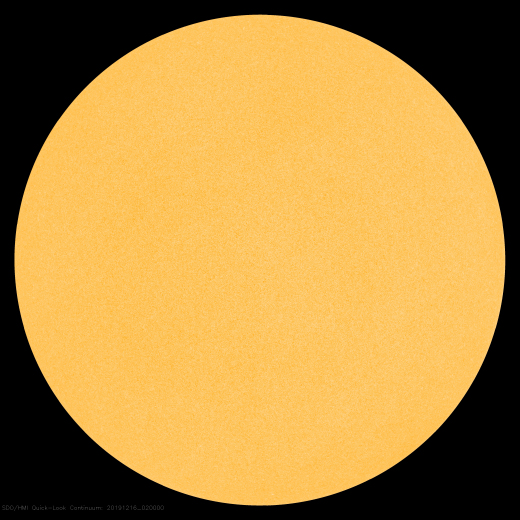 Above: The blank sun on Dec. 16, 2019. Credit: NASA/Solar Dynamics Observatory
The previous record-holder was the year 2008, when the sun was blank for 268 days. That was during the epic Solar Minimum of 2008-2009, formerly the deepest of the Space Age. Now 2019 has moved into first place.
Solar Minimum is a normal part of the 11-year sunspot cycle. The past two (2008-2009 and 2018-2019) have been long and deep, making them "century-class" Minima. To find a year with more blank suns, you have to go back to 1913, which had 311 spotless days.
Last week, the NOAA/NASA Solar Cycle Prediction Panel issued a new forecast. Based on a variety of predictive techniques, they believe that the current Solar Minimum will reach its deepest point in April 2020 (+/- 6 months) followed by a new Solar Maximum in July 2025. This means that low sunspot counts and weak solar activity could continue for some time to come.
Courtesy Spaceweather.com